Send Inquiry
Offering a wide range of Process Control Instruments, Level Controller, Continuous Fuel Sensor,Liquid Level Controllers, Transparent Level Gauges, Fuel Sensor, Safety Relief Valve and Gauges.
About Us
Established in the year 1996, we are one of the premier manufacturers and exporters of process control instruments and allied products. Our range includes Reflex/Tubular Level Gauges, Gauge Valves, Float Switches, Cable Float Switch, Miniature Float Switch, Bypass Magnetic Level Indicator, Flow Meters, etc. They are extensively used in different industries like sugar, chemical plants, refineries, textile mills and many more and are designed, built and tested to meet the most demanding customer needs. Our products are known for delivering superior performance in the most challenging in-plant and O.E.M applications.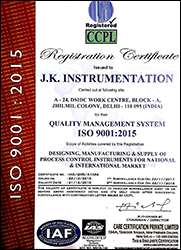 Our Valuable Customers List :


Bharat Electronics Limied
Tata Power Delhi Distribution Limited
Schindler India Pvt. Ltd.
The India Thermit Corportation Limited
Cavendish Industries Limited
R.K. Engineers Sales Ltd.
Shree Cement Limited
Mohan Meakin Limited
Multitex Filteration Engineers Ltd.
Dharampal Premchand Ltd.
Lucid Colloids Limited
Essar Power M.P. Limited And many more.